Format: CD
Released: 2008
Label: Klanggalerie
Cat.No.: gg119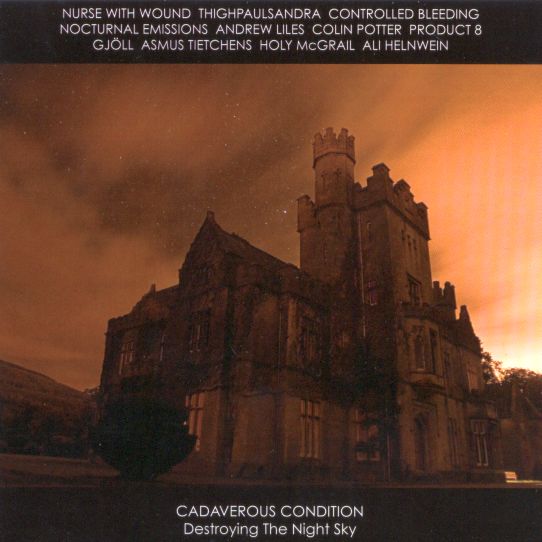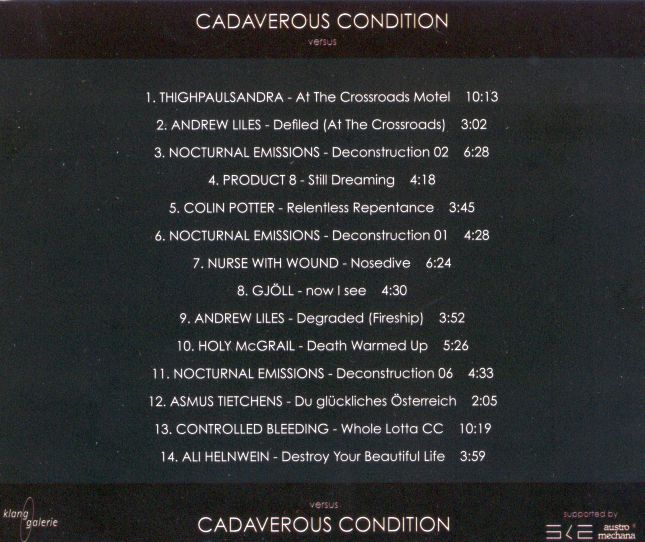 Songs:
THIGHPAULSANDRA - At The Crossroads Motel
ANDREW LILES - Defiled (At The Crossroads)
NOCTURNAL EMISSIONS - Deconstruction 02
PRODUCT 8 - Still Dreaming
COLIN POTTER - Relentless Repentance
NOCTURNAL EMISSIONS - Deconstruction 01
NURSE WITH WOUND - Nosedive
GJÖLL - now I see
ANDREW LILES - Degraded (Fireship)
HOLY McGRAIL - Death Warmed Up
NOCTURNAL EMISSIONS - Deconstruction 06
ASMUS TIETCHENS - Du glückliches Österreich
CONTROLLED BLEEDING - Whole Lotta CC
ALI HELNWEIN - Destroy Your Beautiful Life
The above artists have used our "To The Night Sky" album as source material to create new and unique pieces of music. Some have used just one song and its separated instrumental and vocal tracks, others have chosen several songs, mixing and splicing them together.
The base material got ripped apart and torn to pieces, new sounds were added, textures rearranged; the collaborators messed with the fabric of the music.
The task was to make the songs sound very different to the original versions, the artists were asked to make them their "own", and they have.
This is very dark, very difficult, very heavy meNtal stuff.
Bleak and esoteric, doom and drone, black and extreme, yet also freaked out and beautiful.
This is not just a "remix" album, this is alchemy.