CD SONGS FOR THE CROOKED PATH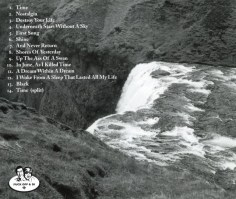 Songs:
Time
Nostalgia
Destroy Your Life
Underneath Stars Without A Sky
First Song
Shine
And Never Return
Shores Of Yesterday
Up The Ass Of A Swan
In June, As I Killed Time
A Dream Within A Dream
I Woke From A Sleep That Lasted All My Life
Black
Time (split)
Personnel:
Wolfgang Weiss
René Kramer
Peter Droneberger
Paul Droneberger
with
R.N. Taylor
Matt Howden
Richard Leviathan
Jóhann Eiriksson
all songs by Cadaverous Condition, except "Time" by R.N. Taylor/CC, "Up The Ass Of A Swan" by Todd Dillingham, "Black" by Will Oldham
"In June, As I Killed Time" recorded live in the cult room of Castle Lockenhaus
Thanks to Julian Cope, Holy McGrail and Axel Rab.